WHISPERING SANDS BEACHFRONT MOTEL

WAIKANAE BEACH, GISBORNE
If tranquility and accessibility are priorities for your stay, you'll be hard-pressed to find a better location for a more memorable experience than at the Whispering Sands Motel. The ONLY beachfront motel in Gisborne.
Just imagine yourself here, waking to the sounds of the ocean waves rolling in. Opening your sliding door to be one of the first people in the world to greet the sunrise. Taking a stroll just moments away onto the pristine sand for your morning walk, or diving straight into the clean, azure ocean for your dawny (surf). Perhaps it's more a bike ride or stroll along the boardwalk you prefer, a yoga and meditation session on the sand or circuit workout on the grass.
Here at Whispering Sands you can relax, adventure or do it all – it's your beachfront escape.
Enjoy the day working within this creative space or get out and about and take in all the sights and activities Gisborne has to offer.
Rooms
We have 14 beachfront apartments – all with panoramic views of the ocean from sunrise to sunset.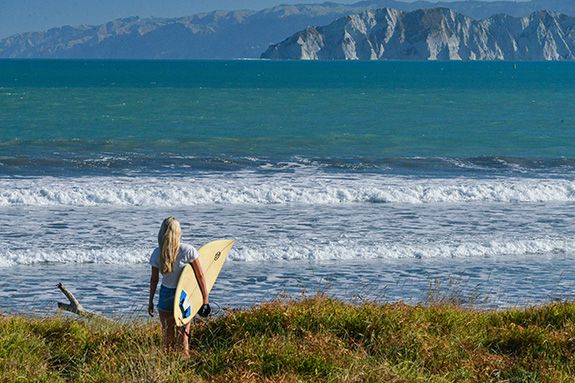 So Much To Do
Maybe it's a museum you want to explore, or perhaps tasting a few wines and indulging in delicious local cheese platters is more your style? You're in luck as Gisborne is not only regarded as the chardonnay capital of New Zealand, but we also have numerous wineries. So jump on a wine tour.
Shoppers you can shop till you drop with many local boutique stores and galleries. Experience a culture, uniquely Tairawhiti, enjoy our friendly laid-back lifestyle here on the East Coast.
For the adventure seeker, test your golf skills at Poverty Bay golf course just 5mins from your apartment, jump back on the horse and explore fabulous trails, or check out some of New Zealand's best surf breaks with "The Pipe" just 10 minutes away from your room. At Tatapouri you can feed stingray. SUP, kayak or get into waka ama along our rivers. Cycle the railways, mountain bike up Kaiti Hill which you can see from your room – the options are plentiful.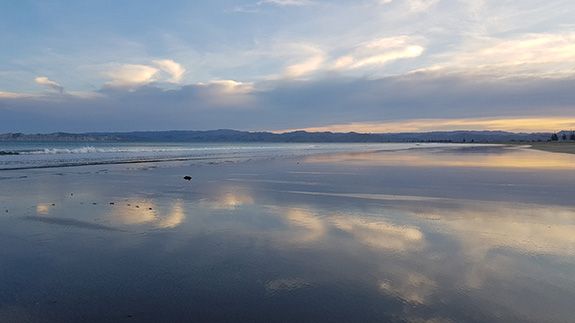 Paradise
For our keen fisherman, Gisborne is known as a fishing paradise with plenty of charter options, trout fishing or salt-water fishing. Kids love to fish off the wharf, you can surf-cast right outside your room at Whispering Sands or take a drive down the "Mad Mile" as the locals call it, to the Waipoa River mouth for a spot of fishing. Make sure to take your surfboard, this spot goes off. Don't get us started on diving! Check in with the local charters, gather your own kaimoana and cook it fresh here on the BBQ.
Is thinking of food making your mouth water? Feel free to pop your masterchef hat on as your apartment comes with a full kitchen, or go on, take the night off and dine out. You will be spoilt for choice with an array of restaurants and cafés, as well as the famous Smash Palace within walking distance.
Relax
Or don't go anywhere and park up right at home. Order in and make yourself comfortable. Relax and gaze out from your room at the unsurpassed panoramic views of Turanganui-a-Kiwa (Poverty Bay) and Te Kuri o Paoa (Young Nick's Head). Quench your thirst with your favourite bottle of wine or beer and unwind on your private balcony, whilst taking in the spectacular sky views of pinks, purples, and yellow as the golden sun sets before hitting the sack to the blissful sound of the ocean.
So, there's something for everyone and you'll find everything you're seeking here at Whispering Sands.
Safe, super clean, relaxing, peaceful. Jaki and her team will do their best to take care of everthing.
You'll absolutely love your stay here at Whispering Sands Motel and you will feel both rested and uplifted.